Staying fit during the winter months can be challenging, especially for those that live in colder climates where it becomes highly unappealing to be active outside. However, making smart eating choices is one way we can attempt to stay healthy this time of year, and the good news is that are a number of winter meal options that are both good to eat and good for you. The following are some of Hussain al Nowais's favorite winter recipes.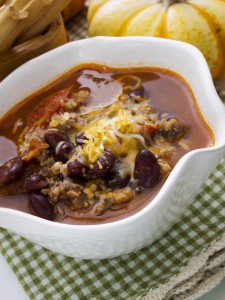 Turkey Chili
Healthy Tip: In this recipe, substitute ground beef with ground turkey for lower fat content and select beans advertised as low-sodium.
Ingredients: 1 cup chopped onions, 1 tb of garlic (minced), 1lb ground turkey, 1 can low-sodium red kidney beans, 1 can organic crushed tomatoes, 2 cups low sodium chicken stock, 1 ½ teaspoons of salt.
Instructions: Cook ground turkey and onions in a skillet over the stove until browned. In a large pot, combine cooked turkey meat and onions with 2 cups of low sodium chicken stock, a can of low-sodium kidney beans, a can of organic crushed tomatoes, and salt for flavoring. Let simmer on the stove for 1 hour, stirring occasionally throughout. Top with shredded cheddar cheese once served, and enjoy!
Vegetarian Lasagna
This recipe is designed for the slow cooker. Ingredients include: 1 large egg, 1 15oz container of skimmed ricotta cheese, 1 5oz package of chopped spinach, 1 zucchini, 1 can of crushed tomatoes, 1 can of diced tomatoes, 15 lasagna noodles, 3 cups of shredded cheese.
Instructions: Combine your egg, ricotta and zucchini into a large mixing bowl. Combine cans of crushed and diced tomatoes into another bowl, and pour 1 ½ cups into a crockpot that's been coated in cooking spray. Place 5 strips of lasagna noodles atop your tomato mixture. Layer on the ricotta mixture, and then add another layer of the tomato mixture and shredded mozzarella. Place another layer of 5 lasagna noodles, and repeat this process once more. Cover and let cook in your slow cooker on low for approximately four hours, or on high for about two hours.
Adapted from Eating Well magazine.
Lentil Stew
Ingredients: ¾ cup chick peas (dry),2 ½ butternut squash, 2 large carrots, 1 large onion, 1 cup red lentils, 4 cups vegetable broth, 2 tb tomato paste, 1 cup chopped roasted peanuts, ¼ cup packed cilantro leaves, ¼ cup lime juice, ¼ ground pepper
Instructions: Soak chickpeas in cold water over night (or for at least 6 hours). Then, place in your slow cooker and combine with chopped carrots and butternut squash, vegetable broth, tomato paste, chopped onion and spices. Let cook for between 5 and 7 hours, or until the chickpeas begin to break apart. Serve and top with lime juice and chopped roasted peanuts.
Adapted from Eating Well magazine.
Happy eating!