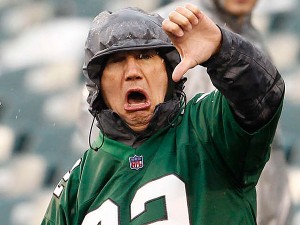 I know that it is supposed to be Phillies talk right now, but they don't look like they're going to be making a run at the pennant anytime soon. As of the writing of this, the Phillies are 4-9, and I would be amazed if they won more than 60 games this year. So let's talk about what everyone else is talking about in Philadelphia: the Tim Tebow signing.
If you're exhausted by Tim Tebow discussion, you're not alone. I listened to sports radio this morning on both WIP and the Fanatic, and it seemed like the only thing anyone was able to talk about was Tebow. There was a lot of vitriol behind many of the comments. I can hear Skip Bayless singing the praises of the move already.
Tim Tebow has always had some mystique. He's not only been super overt about his faith, but he's somehow always been an underdog even though he has national championships and a Heisman trophy under his belt. He has even won a playoff game on the NFL level.
Yet you'll hear it time and time again. He can't read defenses. His mechanics are way off. And, after Denver dropped him and he had two short stints in New York and New England, he hasn't been a factor in the NFL. He even started working for ESPN analyzing the SEC. So will Tebow succeed in Philly after so many failed chances?
To be honest, I, Hussain al Nowais, cannot tell the future. If I could, I would have invested in Uber already.  I'm not ready to completely dismiss Tebow, but there's no way that I'm going to say that he will succeed in Philly. I think Chip Kelly is trying to leave every option open. Maybe he'll put him in some double tight end packages or have him run the option every once in a while.
I have no idea what Chip Kelly is doing and neither does the rest of Philly. Hopefully, Chip Kelly knows what he's doing though. Otherwise it's going to be a very long football season.